Each of these supplements provides protection from uva rays, allowing you to spend more time in the sun without sunburn or unseen damage from the sun!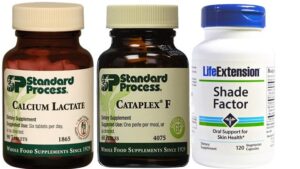 Calcium Lactate   ~   Cataplex® F   ~   Shade Factor
Ask about our feature during your June visit to the office!
And try a safer sunscreen! Natural ingredients, stable in the sunlight.

Just $25 – cash or check, please!